East Regional Prices Rising For Games At MSG – ESPN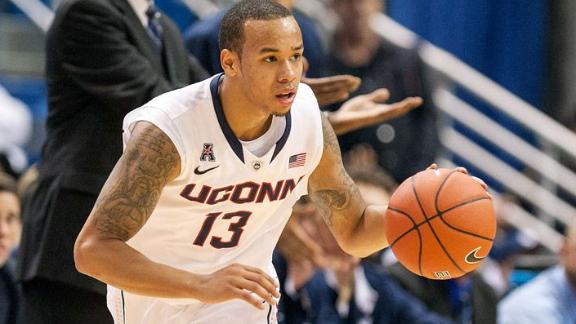 East Regional Prices Rising For Games At MSG
NEXT VIDEO
March Madness has taken hold of New York.
Prices to see teams in the East Regional are soaring, as the median price paid on StubHub for a full strip of Sweet 16 and Elite Eight games at Madison Square Garden this Friday and Sunday, respectively, is $500.
That price includes tickets purchased by fans before the matchups were set.
New York-type prices were already being paid at that point for the first NCAA tournament games at the current Madison Square Garden, which was built in 1968, but listed prices for tickets are up more than 50 percent since Saturday, when No. 7 seed Connecticut knocked off No. 2 seed Villanova.
The UConn campus in Storrs is 135 miles from New York City, while alumni in Hartford and other parts of the New York, New Jersey and Connecticut area have shorter drives.
As of Wednesday afternoon, the average price listed for a full strip of tickets to the regional, which includes three games featuring the Huskies, No. 1 seed Virginia, Michigan State and Iowa State, was $1,483, according to ticket aggregator TiqIQ. That would beat the previous high for average list price in recent history, which belongs to games at the Prudential Center in Newark, N.J., in 2011 ($905).
After MSG, the most coveted ticket is the West Regional, with a full strip costing a median price of $344 on StubHub. The price has risen in part because of the presence of San Diego State, which is roughly a two-hour drive from the Honda Center in Anaheim, Calif.
Despite being a hot ticket, the median price paid for a strip of tickets on StubHub to the Midwest Regional is $255. Although the Louisville-Kentucky matchup is big, the games are being played at Lucas Oil Stadium and have a capacity of 38,620, more than double that of Madison Square Garden.
The cheapest ticket is the South Regional, with a median price paid of $225 for the full strip. No team in that regional — Stanford, UCLA, Dayton or Florida — has a campus within 500 miles of the venue, FedEx Forum in Memphis, Tenn.
ESPN.com Sports Business reporter
ESPN.com's sports business reporter since 2012; previously at ESPN from 2000-06
Appears on SportsCenter, ESPN Radio, ESPN.com and with ABC News
Formerly worked as analyst at CNBC
CommentsWrite a Reply or Comment: Cancel reply
Categories
Sign up now to get up to 50% discount on Patio decor !!!